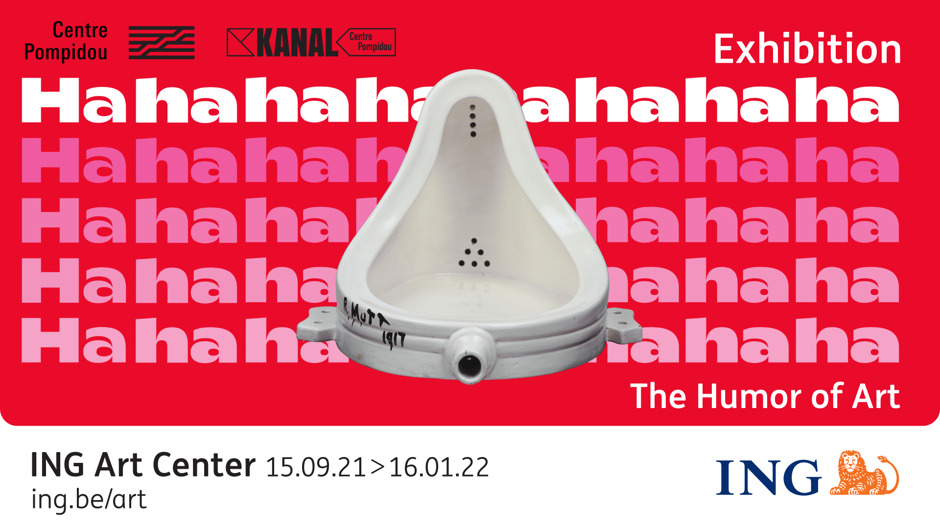 New exhibition at the ING Art Center: Hahaha. The humor of Art
A collaboration between Kanal-Centre Pompidou, the Centre Pompidou and ING Belgium
Tuesday 15 June 2021 - Brussels - This autumn, visitors can discover a new exhibition at the ING Art Center in Brussels: Hahaha. The humor of Art. This exposition reveals the role of humor in artistic revolutions from the end of the 19th century to the present day. From the Great Zwanz Exhibition (1885) to Dadaism, from 'Lolo' the donkey to Marcel Duchamp's readymade, from Man Ray to Marcel Broodthaers, from John Baldessari's songs to Wim Delvoye's performance art, Hahaha takes humor seriously! The exhibition is a unique collaboration between Kanal-Centre Pompidou, the Centre Pompidou and ING Belgium. It takes a new look at some works and allows visitors to discover others from the Centre Pompidou which have either never been shown in Belgium, or only briefly. Hahaha. The humor of Art will run from 15 September 2021 to 16 January 2022.
The exhibition will show a series of quite remarkable works including the iconic Fountain, Marcel Duchamp's inverted urinal. This bold joke revolutionised the art world in 1917 when it was presented at the New York Society of Independent Artists Salon to test the self-proclaimed open-mindedness of its jury. Fountain was refused but it would play a major role in the history of 20th century art. Duchamp is without a doubt the first artist to elevate the prank into a full artistic concept, followed by Piero Manzoni and his Artist's Shit or the pranks by Bertrand Lavier, Maurizio Cattelan and Wim Delvoye.
"Despite its undeniable reach, humor has been reduced to a phantom presence in the texts that make up the great modernist narrative. By relying on laughter, the avant-garde champions of humor made it one of the main driving forces of modernity. Hahahaattempts to restore laughter's place in the history of modern and contemporary art."Nicolas Liucci-Goutnikov, curator of the exhibition
Over 200 works divided into seven themes
​Hahaha. The humor of Art is organised around seven themes: caricatures, the pun, artwork as toys, hoaxes, the parody, mockery, and master buffoons. The route brings together over 200 works and allows visitors to discover how the artists took a demystifying look at art.
"Humor and art share a vivid language with a great asset: openness towards others, one of the major values upheld by ING. Belgium has always had a strong tradition of humor and mockery, with many disruptive artists such as René Magritte, Jacques Charlier and Marcel Mariën. This is why, in addition to the works from the Centre Pompidou collections which make up the majority of the exhibition, we have also included works by essential Belgian artists and collaborated with some of them, for example Guillaume Bijl and Wim Delvoye."
​Anne Petre, Manager Art at ING Belgium
Laughter yoga and improvisation sessions
​Various activities offered under the name Hahahagenda will provide visitors with a different way to experience the exhibition. They can sign up for laughter yoga sessions, musical evenings or improvisation sessions focusing on humor.
"The exhibition Hahahais the result of a fantastically rich collaboration between ING and the KANAL-Centre Pompidou partnership. I'm delighted that this outstanding exhibition is inaugurating KANAL's extramural programme, which will allow us to exhibit at Mont des Arts/Kunstberg and reach a different audience. I can think of no better prelude to restart the cultural activities at our institutions and in Brussels generally."
​Yves Goldstein, Director and Chief of Mission of the Kanal Foundation
Some inspiration
​"Nothing is serious enough to take seriously" Marcel Duchamp
​"Funny people are the only people I ever get really interested in, because as soon as somebody isn't funny, they bore me" Andy Warhol
About the ING Art Center, Brussels
​ING supports art in society and aims to make it accessible to as many people as possible via three pillars: ING's art collection, exhibitions, and sponsorship. ING believes in the role of art and the impact it has on life. It helps to broaden perspectives and provides a lever by breaking conventions, opening minds, and pushing back boundaries.
The ING Art Center has been an active cultural partner in Brussels since it opened in 1986. The Center is currently devoted to modern and contemporary art, hosting temporary exhibitions. Whether they are monographic exhibitions like those devoted to James Ensor, Peter Kogler, Christo and Jeanne-Claude… or thematic ones like Pop Art in Belgium, Guggenheim - Full abstraction, Revolutions: Records and Rebels, 1966-1970, or Love.Hate.Debate, the ING Art Center has over 60 exhibitions under its belt and has already attracted over three million visitors.
Find out more on ing.be/art
About KANAL-Centre Pompidou, Brussels
​"KANAL-Centre Pompidou was born out of the conviction that art and culture are fundamental to make people come together in a society which is more and more divided. It is the willingness to create a place where everyone will feel at home."
​Yves Goldstein, Director and Chief of Mission of the Kanal Foundation
Driven by the Brussels-Capital Region, this ambitious project seeks to provide Brussels with a cultural hub favourable to the aura of the capital of Europe. In the context of a ten-year partnership with the Centre Pompidou, the future KANAL – Centre Pompidou will not only house a museum of modern and contemporary art, but also the rich collections of architecture and urbanism of the CIVA Foundation. It will also accommodate many public spaces with a range of functions, including several stages for the performing arts.
​After the KANAL Brut and It Never Ends exhibitions, the former Citroën garage on Place de l'Yser/IJzerplein closed its doors for renovation and conversion works. The official opening of the museum is scheduled for 2024.
Find out more on kanal.brussels
About the Centre Pompidou, Paris
​The Centre Pompidou, a French national cultural public institution, was inaugurated in 1977 in Paris. Within its National Modern Art Museum, it preserves the largest collection of modern and contemporary art in Europe, one of the two biggest worldwide. From major historical collections to the most recent acquisitions, the collection covers the disciplines of visual arts, photography, new media, graphic arts, experimental cinema, architecture, and design; with over 120,000 works of art, it forms a representative selection of 20th ​ and 21st century art.
Find out more on centrepompidou.fr
Practical details
​
Hahaha. The humor of Art

Press preview: 14 September 2021 from 10:00 to 11:30

Accessible to public: from 15 September 2021 to 16 January 2022

ING Art Center, Place Royale/Koningsplein 6, 1000 Brussels

From Wednesday to Sunday from 10:00 to 18:00
​Late night opening on Fridays until 21:00

Prices: between 0 and €12; 50% discount for all ING customers

Various health measures will be taken in accordance with the government guidelines in order to ensure the safety of each visitor.