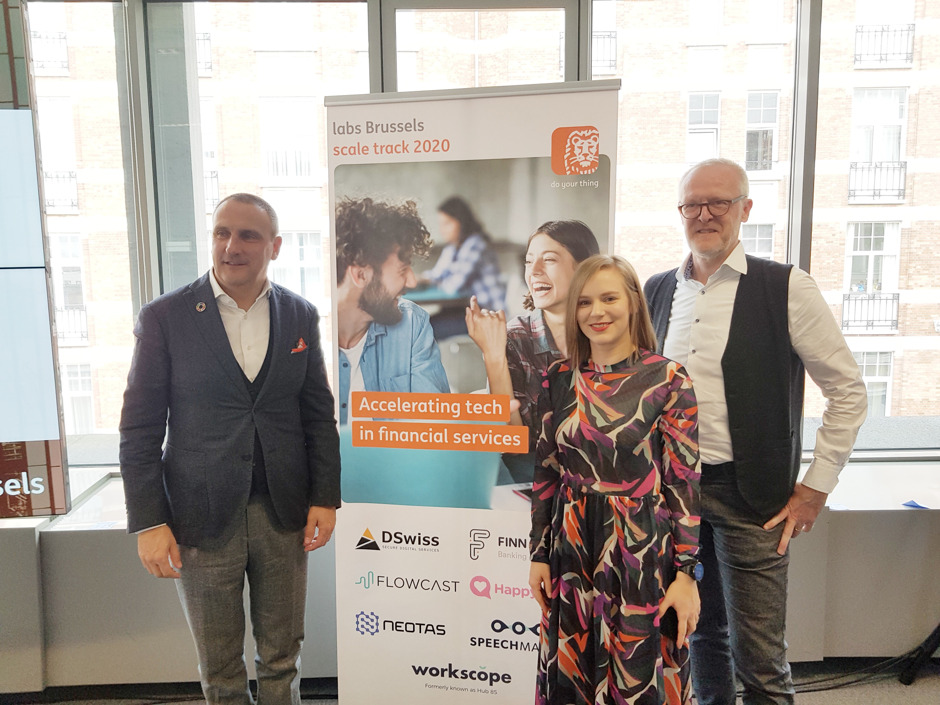 ING Labs Brussels supports scale-ups and internal teams with the development of fintech concepts
ING in Belgium is fully committed to digital innovation
Wednesday, March 4, 2020 — ING in Belgium is launching ING Labs Brussels, an innovation accelerator that will help and support entrepreneurs by opening up the bank's real data, customers and experiences to further develop their innovative concept or basic product for the financial sector. This will raise the former FinTech Village, which is now incorporated in ING Labs Brussels, to the next level . Along with ING Labs Brussels, ING is also getting the 2020 cohort underway. Of the 350 companies from 50 countries that signed up for this edition of the programme, seven have ultimately been selected this year (including one ING start-up). With this initiative, ING is keen to enable new digital fintech solutions and products to be fast-tracked to the bank and the customer.
In recent years, FinTech Village, the accelerator of ING in Belgium, which is now part of the ING Labs, has built up a strong reputation within the financial technology community. This coaching programme set up by ING has already helped around 30 companies to bring new solutions to market faster in the past few years.
"With ING Labs Brussels we will provide a specific framework for aligning innovations better with the particular needs of both the bank and its customers, and we will create an environment in which innovative and disruptive ideas can be brought to market more quickly. We will do so through collaboration and by combining the knowledge and network within ING with the knowledge and skills of other partners. This is crucial for catering better to the requirements and expectations of our customers, which are constantly changing in this digital society."
Stephanie Van Avesaat, Head of ING Labs Brussels & Innovation Lead at ING in Belgium
Starting this year, the number of possible models of collaboration is being expanded. For example, the scaling programme is now also open to internal ING initiatives, such as FINN. FINN allows 'smart devices' to carry out financial transactions autonomously.
Pop-up squads to assist scale-ups in achieving accelerated growth
Within ING Labs Brussels, ING will work with scale-ups that have developed a new product or service, which they are ready to market and scale up. More specifically, ING will work with them to develop a Proof of Concept. For this purpose, ING will assemble pop-up squads, small teams comprising the start-ups and ING specialists. There will also be a series of master classes, and the participating start-ups will be able to call on a pool of internal and external specialists and mentors to help them work out solutions to the many challenges that upscaling their product or service will entail.
"For this scaling activity we are targeting initiatives that already have a revenue model. We will help them to grow faster and to break out of their home market. The same now applies to internal initiatives; this will enable them to develop into a strategic component of ING more quickly. Alternatively, they could become the subject of a spin-out."
Stephanie Van Avesaat, Head of ING Labs Brussels & Innovation Lead at ING in Belgium
Innovation through ING Labs is consistent with the objectives that ING in Belgium has set for itself.
"Digital innovation in the banking world does not stop with banking apps. As with all banks, digital banking is particularly important to ING. The development and roll-out of our new banking app is a key project for us, but there is more to do. New players are popping up all the time… fintechs, small and agile companies that deliver innovative products and services, building on the very latest technologies. Collaborating with these innovators allows us to fast-track the availability of innovations that are relevant to the banking world. In addition, we are focusing on solutions that can make us even more efficient and on innovative tools that should help our employees to serve their customers even better. The transformation of ING is therefore as much a story of rigorous innovation."
Erik Van Den Eynden, CEO of ING in Belgium
ING already has Labs in Amsterdam, London and Singapore.
"We welcome the addition of ING Labs Brussels where a wealth of experience has already been acquired with FinTech Village. The ING Labs are an important pillar in our innovation strategy, where an idea is transformed into a high-impact solution for customers. Each of the ING Labs has its own specific domain. In Amsterdam, the focus is on creating 'minimum viable companies', while in London it is on real estate (PropTech), regulations and compliance (RegTech), and in Singapore it is on logistics and the organisation of global trade flows (TradeTech). ING now has 200 partnerships with fintechs. ING believes in the power of partnerships to implement our innovation strategy and to further enhance the customer experience."
Olivier Guillaumond, Global Head of ING Labs and Fintechs
About the cases
FINN - Banking of Things (the Netherlands)
The number of connected devices has increased exponentially in recent years. It is expected that by 2025 there will be around 75 billion devices connected to the Internet of Things (IoT). In 2010, this number was estimated at 5 billion.
FINN - Banking of Things enables smart devices to perform financial transactions autonomously. The FINN software is setting new standards in the field of IoT payments, making it possible for smart devices to perform secure (micro-)transactions on behalf of the owners of these devices. FINN allows client companies to offer 'pay-per-use' solutions. FINN, an internal ING initiative that was born in 2018 at an innovation bootcamp for ING employees now has 20 or so employees.
DSwiss/Switzerland
DSwiss AG is a worldwide provider of highly secure digital services, such as digital safes, mailboxes for bank document delivery and secure exchange platforms for financial advisors and customers.
Flowcast/US
Flowcast leverages its patented machine learning methodologies to create predictive models that assess risk and enable lenders to unlock credit to all size businesses at scale. Its algorithm allows for increased accuracy and better visibility on repayment capacity.
HappySignals/Finland
HappySignals makes employee experience data visible, understandable and connected to operational data in IT. It enables companies to build a seamless and customer-focused IT service.
Neotas/UK
Neotas is an Open Source checks specialist that aims to set new standards in due diligence, pre-employment screening and compliance by leveraging technology and experienced analysts.
Speechmatics/UK
Speechmatics is a technology company which develops automatic speech recognition software based on recurrent neural networks and statistical language modelling.
Workscope/UK
Workscope is an enterprise technology company focused on building solutions that solve challenges related to end-user computing and business operations.