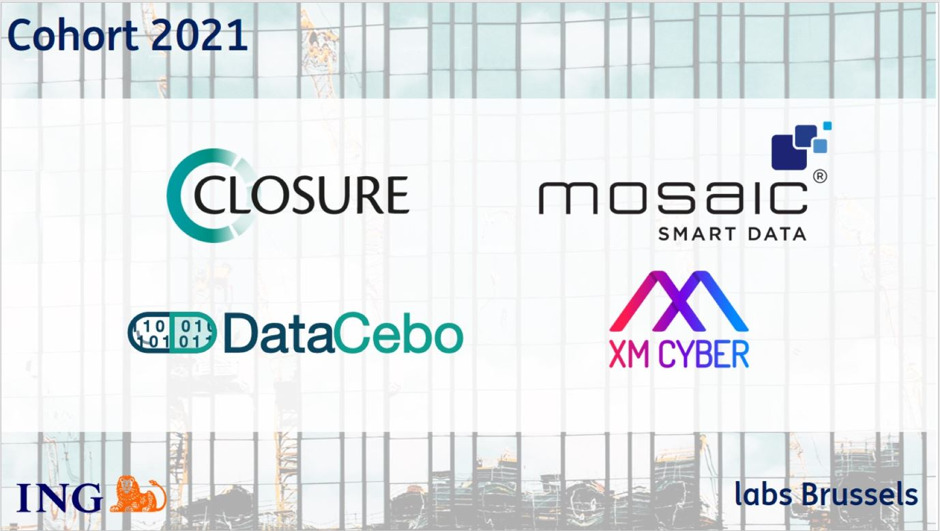 ING Labs Brussels announces four new scale-ups for second edition
ING invests $3 million in ING Labs Brussels alumnus Flowcast
Monday 8 March 2021 – Brussels – ING Labs Brussels, the bank's innovation accelerator, today presents four startups and scale-ups that will participate in this year's programme to support these young fintech companies.This will take place during a digital kick-off event. Specifically, these young technology companies operating in the financial sector will test and apply their innovations and value propositions in a banking environment. ING is also stepping up its own pace of innovation through various commercial joint ventures with alumni of ING Labs Brussels. For example, ING Belgium and Flowcast, a US-based fintech startup, are launching a pilot project to see what preventive and proactive options the bank can offer in case of non-performing mortgage loans.Flowcast uses artificial intelligence to modernise lending and credit collection processes. As part of this joint venture, ING Ventures – the bank's venture capital arm – is investing an additional $3 million in Flowcast.
"ING Labs Brussels is a programme that increases the pace of innovation at ING by partnering with technology companies that have developed solutions for one of our five strategic priorities," explains Stephanie Van Avesaat, Head of ING Labs Brussels "We are convinced that we can innovate even faster by making use of what already exists, joining forces and opening ourselves up to joint ventures and co-creation."
The four participating scale-ups have developed a new product or service and are ready to launch it on the market. Over the next four months, they will work with a team of internal and external specialists on a 'proof of concept' in a banking environment, to demonstrate that their solution works.
The four young technology companies selected for this edition are:
Closure: this young Dutch technology company offers a service that supports surviving relatives when certain contracts, subscriptions and accounts have to be closed down following a death.

XM Cyber: this Israeli scale-up offers a platform that simulates attacks on business-critical processes and, based on these, gives advice on how a company can better safeguard these weak points.

Datacebo: this US company creates synthetic data for testing software.

Mosaic: this scale-up operating from the UK uses algorithms to analyse transactions in capital markets. It allows users to find out what is going on in the market, why it is important and what actions they should take to seize certain opportunities.
Fintech improves the customer experience by enabling ING to reassess and improve its processes for non-performing loans
ING Labs Brussels builds on the former Fintech Village, which already had a solid reputation within the financial technology community. Joint ventures between young technology companies and ING can lead to a commercial partnership with the bank. Today, on the day that the ING Labs Brussels innovation programme kicks off, ING has announced its partnership with Flowcast.
Flowcast is a US fintech startup which uses artificial intelligence to modernise lending and credit collection processes. ING Ventures, the bank's venture capital arm, is investing an additional $3 million in Flowcast this year as part of a pilot project.
"ING Belgium is currently running a pilot project with Flowcast to further test customer satisfaction and the customer impact of this proactive approach, with the aim of supporting local retail customers for all mortgages," says Stephanie van Avesaat, head of ING Labs Brussels
The preventive and proactive options that the bank is able to offer in the event of non-performing loans are being examined during this pilot phase. Flowcast's investment round now totals more than $10 million.
"Credit decisioning is a core capability of ING, which we are continuously seeking to strengthen in order to improve our offering to ING's clients. We believe that machine learning and alternative data capabilities such as those developed and refined by Flowcast will shape the future of financial services and is therefore a strategic priority," said Frederic Hofmann, managing director of ING Ventures
ING previously co-funded Flowcast's Series A investment round.
Flowcast's technology is based on cutting-edge research in machine learning, data science and artificial intelligence and enables financial institutions to manage their customer relationships more confidently and efficiently and increase customer value.
"Our service allows the bank to be proactive in managing its credit portfolio, which has a positive effect on the cost side, the sustainable relationship between bank and customer and the borrower experience.It's a great example of how our credit analysis platform is modernising both sides of the credit market," says Ken So, co-founder and CEO of Flowcast
Flowcast uses its own patented technology based on machine learning. A highly regarded team of data scientists creates high-quality models for financial institutions. The aim is to improve the customer experience, reduce the number of customers falling into arrears or default and lower the costs of creating provisions to absorb potential credit losses.
ING Banking app to include a digital subscription manager thanks to ING Labs Brussels
ING plans to go on investing in scale-ups in the coming years through ING Labs Brussels, as this often leads to commercial partnerships that make banking even simpler for customers. In 2020, ING Belgium signed a contract with Swedish scale-up Minna Technologies which tested their product at ING Labs Brussels. This scale-up offers a digital subscription manager that ING Belgium customers will soon be able to use via the ING Banking app. The 'One View' application allows the bank to terminate subscriptions for customers free of charge without them having to deal with all the administration themselves. This is a first, because ING is the first bank in Belgium to offer this service. ING expects to be able to save more than €15 million for its customers by early 2024 using the subscription manager.