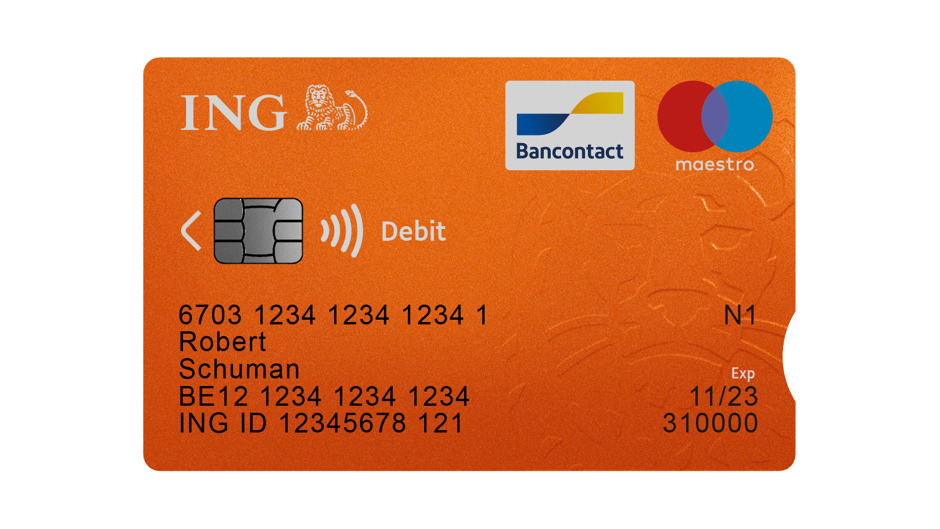 Exclusive: ING is the first bank in Belgium to introduce a payment card with a notch for customers with a visual impairment
More than four million cards will have this notch by 2025
Tuesday, 11 May 2021 – Brussels – Today, ING Belgium becomes the first bank in our country to introduce payment cards with a notch. This feature makes it easier for customers with a visual impairment, for example, to identify which card is which and which end to insert into an ATM or payment terminal. This is one way in which ING's helping to improve the financial independence of customers with a visual impairment, helping them overcome obstacles to using their debit or credit cards in shops or at an ATM. Within the next 5 years, as many as 4 million ING debit and credit cards in Belgium will feature this notch.
According to the latest figures from the World Health Organisation, there are more than 2 billion people worldwide who have a visual impairment, whether they be partially sighted or blind. In our country it is estimated that 1 in every 100 people has a visual impairment. For them, everyday tasks such as paying by card in a shop or withdrawing cash at an ATM can be a challenge. That is why, as from today, ING is starting the roll-out of debit and credit cards with a so-called "notch"; a feature that makes it easier for people with a visual impairment to take charge of their finances.
"This card is designed to make card payments and cash withdrawals more accessible to people with a visual impairment and thus enhance their financial independence. This small modification to the card's design will certainly make a big difference in the daily lives of our customers because they can feel which side of the card contains the chip.What's more, laser engraving also makes it easier for customers with a visual impairment to tell the difference between their debit and credit card." Amaury Vanthournout, Director of Payments at ING Belgium
Sustainable roll-out of more than 4 million cards featuring a notch
​
​ING is the first bank in Belgium to introduce such a card with a notch. (ING customers in the Netherlands already use the accessible card.) In due course, the bank will be replacing all debit and credit cards globally with a card featuring a notch. Tests conducted by ING with customers who have a visual impairment showed that more than 7 out of 10 customers claimed the card with a notch would help them identify their payment cards more quickly and more easily amongst all the cards in their wallet.
"We call for greater accessibility for blind and partially sighted people in all areas. We welcome any initiative that is geared towards ​ improving and ​ safeguarding these rights. Especially since the number of people with a visual handicap is on the increase thanks to the ageing population." Charlotte Santens, communications manager with the Ligue Braille which provides support to over 15,000 blind and partially sighted persons in our country, helping them to live their lives as independently as possible
For sustainability reasons, ING is opting for a phased roll-out of the new cards, using up its existing stock of cards first. Within five years, as many as 4 million debit and credit cards belonging to ING Belgium will feature a notch. No action is required on the part of customers. The bank will send out the card with a notch whenever they open a new account or whenever their current card has expired and needs to be replaced. The accessible payment card will initially be available for customers with Mastercard Business and Mastercard Gold credit cards.
Accessible service with talking card reader ​
ING believes in making its services accessible to as many people as possible, regardless of their impairment. In addition to the card with a notch, the bank provides card readers tailored to the needs of partially sighted customers. The latter can enlarge the numbers displayed by the card reader by pushing the 0 of the card reader when the code is displayed.
The bank also offers a talking card reader to assist with online banking. The card reader reads out what the customer needs to enter or type in. ING remains committed to improving accessibility for customers with an impairment so that everyone can do their own banking or that of their business as easily and effortlessly as possible.
More information
For further details about ING and accessibility, please visit: https://www.ing.be/en/retail/daily-banking/current-accounts/accessibility
About ING
ING Belgium is a universal bank that provides financial services for private individuals, businesses and institutional customers. ING Belgium S.A./nv is a subsidiary of ING Group N.V. via ING Bank N.V. (www.ing.com).
​
​ING is a global financial institution with a strong European base, offering banking services through its operating company ING Bank. The purpose of ING Bank is to empower people to stay a step ahead in life and in business. ING Bank's more than 57,000 employees offer retail and wholesale banking services to customers in over 40 countries.
ING Group shares are listed on the Amsterdam (INGA NA, INGA.AS), Brussels and New York (ADRs: ING US, ING.N) stock exchanges.Sustainability forms an integral part of ING's strategy, evidenced by ING's leading position in sector benchmarks by Sustainalytics and MSCI and our 'A-list' rating by CDP. ING Group shares are included in major sustainability and Environmental, Social and Governance (ESG) index products of leading providers STOXX, Morningstar and FTSE Russell. In January 2021, ING received an ESG evaluation score of 83 ('strong') from S&P Global Ratings.