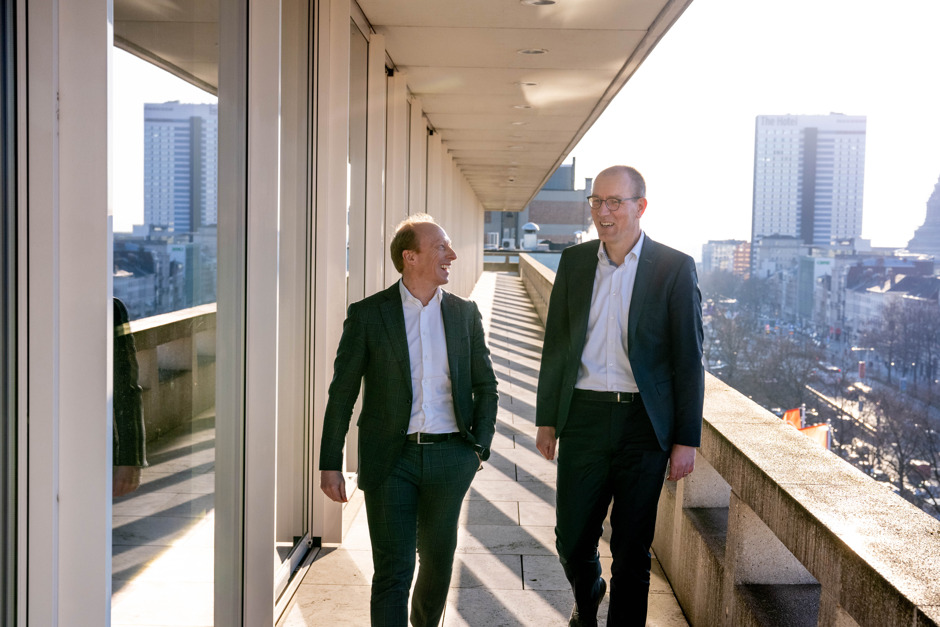 ING Belgium closes strong half-year with over half a billion euros in pre-tax profit
Customers interact more than ever via digital channels: 34% more products bought via ING Banking app
ING Belgium has posted one of its best half-year results in a decade with a pre-tax profit of €588 million for the first 6 months of 2023. Revenue rose almost 20% to end at a solid €1.8 billion. Total expenses dropped by over €50 million. Behind these strong results lies a disciplined execution of Route24, ING Belgium's strategic plan to make banking simple, backed by a more favourable interest rate environment. ING Belgium also continued to optimise its contact strategy during the past 6 months, which was met by even greater customer satisfaction. The number of users of the ING Banking app rose to over 1.5 million, with an average of 60 million visits per month. One-third more products were sold through the app while customers are being served more than ever via digital channels. The number of personal video calls between customers and bankers increased by almost 60% and via chat, our staff received three quarters more questions. Interestingly, the ING Digital Assistant handled seven times more queries during the first half of the year. As customers increasingly find answers and solutions via mobile and online services, the number of telephone calls to customer service fell by almost 40%. In the same context, the bank also completed a transformation of its independent branch network, with a focus on larger teams and more room for specialised expertise.
ING Belgium reports a result before tax of €588 million for the first half of 2023, more than double that posted in the same period last year.
"Our strategy to make banking simple has today born fruit in the form of strong half-yearly results. Route24 is an ambitious and challenging programme, but together with our more than 6,000 employees, we are managing to increase customer satisfaction while delivering the results needed to continue our growth in Belgium."
​Peter Adams, CEO of ING Belgium
Income up by almost 20%
After declining in the first half of 2022 to €1,017 million, interest income recovered to a level of €1,343 million by the end of the first half of 2023. This revenue is thanks mainly to higher income from deposit products and comes despite lower margins on credit products. Total income stands at a solid €1,813 million, up 18% compared with the same period last year. Commission income continued to rise moderately and ended at €364 million. Operating expenses dropped below inflation thanks to Route24 initiatives.
Operating expenses below inflation thanks to Route24 initiatives
Total expenses came to €1,134 million, 4% lower than in the same period last year. This is due to a combination of factors. First, Route24 has delivered greater efficiencies within the bank, keeping operating expenses well below the inflation level of the past 12 months. Second, more one-off provisions were recorded in the first half of 2022, mainly related to the redesign of the network of stand-alone branches. Finally, regulatory costs were also temporarily lower this year.
Supporting the ambitions of individuals and entrepreneurs with €7 billion in new loans
During the first half of 2023, ING Belgium granted €7 billion in loans. In a semester marked by very low demand for residential loans, ING Belgium's loan portfolio nevertheless grew by almost €1 billion. In fact, the bank clocked up a healthy loan portfolio of €110.4 billion in outstanding loans to customers last semester. Risk costs for the first half of 2023 came in at €91 million. That's €64 million lower than in the same period last year when additional provisions were made for large companies exposed to Russia.
"By strengthening ING Belgium's profitability, we are in an even better position to invest in serving our customers to boost their satisfaction even further. It also allows us to keep on providing the loans our individual and business customers need, while still offering an attractive and competitive return on their savings."Hans De Munck, CFO of ING Belgium
Customers find help via digital channels more than ever: sharp rise in calls via chat while video banking has never been more popular
​
​Over the past 6 months, more customers than ever have found their way to ING Belgium's digital channels. Speed and simplicity are the main ingredients of customer satisfaction, elements into which ING Belgium put a lot of effort last semester. And successfully, too! Today, more than 1.5 million customers actively use the ING Banking app, up 3.8% on the same period last year. The app clocked off with 353 million user sessions or an average of 60 million visits per month, an increase of 6.3% compared to the same period last year.
Simple transactions such as opening a current account or savings account, ordering a new debit card, viewing a PIN, etc. are now done via the ING Banking app. For quick answers to common questions, customers can also contact the ING Digital Assistant (IDA). Half of all chat calls are resolved via IDA, which offers ever smarter and higher quality answers thanks to artificial intelligence.
The popularity of video banking continues to grow. Compared to the same period last year, ING employees had 57% more video calls with customers for advice on mortgages, investments and insurance products in the first half of 2023.
"We notice that 7 out of 10 ING customers who are looking for advice about a mortgage loan choose to speak to their banker via video chat rather than physically at a branch. Customers consider this form of contact to be just as personal as a physical meeting and leave satisfaction ratings of 4 or even 5 out of 5. The shift from in-branch advice to video calling is gaining momentum and will continue to grow. Talking to one of our experts from your sofa, after dinner in the evening or from abroad is clearly the future. Customers decide how, where and when they need our services, and we adapt accordingly."Peter Adams, CEO of ING Belgium
Due to the increasing use of digital channels, the number of calls to customer service fell by 37% compared to the same period last year. The number of in-branch transactions also decreased by one third. The subsequent redrawing of the independent branch network has produced larger teams focused on providing specialised advice.
Sales via ING Banking app up by over one third and faster green light for loans
​
​The success and ease of use of ING Belgium's digital channels was also reflected in the bank's sales figures for the first half of 2023. For example, customers bought almost 70% of all products available digitally via the ING Banking app or online, an increase of over 11% and the highest figure ever for the bank. Looking at the app alone, the increase is to the tune of 34%.
Mortgage and business loan approvals are also faster, one of the promises of Route24. Mortgage loans used to take up to 2 weeks to approve. During the first half of 2023, however, three quarters of all customers who were found eligible for a mortgage loan based on the simulation they made via the app or online were granted their loan immediately. The number of Instant Business Loans, where entrepreneurs can apply for up to €100,000 in finance and get approval within 5 minutes, tripled compared to the same period last year. Customers applying for a consumer loan online received approval within 2 days, halving the waiting time compared to last year. These customers gave the bank an average rating of 4.6 out of 5, saying they appreciated the quick and simple process.
The bank has also launched innovative products to tackle complex issues for customers. The launch of the Sustainable Buildings Guide in February is an example of this. The tool visualises what concrete actions businesses and individuals can take to make their properties more sustainable. A first in the banking landscape.
For large companies, ING Belgium offers other tailor-made solutions to support their energy transition. In the first half of this year, for example, 30% more sustainable transactions were concluded within Wholesale Banking where ING acted as sustainability advisor. In addition, the bank granted €1 billion in sustainable loans for large companies.
Among retail customers, eco-renovation loans continue to break records. Last year's strong increase continues, with applications up 30% in the first half of 2023. Volumes also increased by more than 40%, indicating that customers are looking to invest more than ever in making their homes energy efficient. Indeed, on average, they're spending €15,000 on such improvements.
"We are continuing the momentum of a decisive 6 months. Our focus remains on simplifying our products and services and supporting Belgian families and entrepreneurs. In so doing, we aim to push our customer satisfaction even higher. Since the beginning of August, our customers can count on a higher return on their savings and our current account offering has been renewed and simplified. And by offering more freedom of choice in our digital channels, customers are more than ever in the driver's seat, deciding exactly how, where and when they do their banking."
​Peter Adams, CEO of ING Belgium