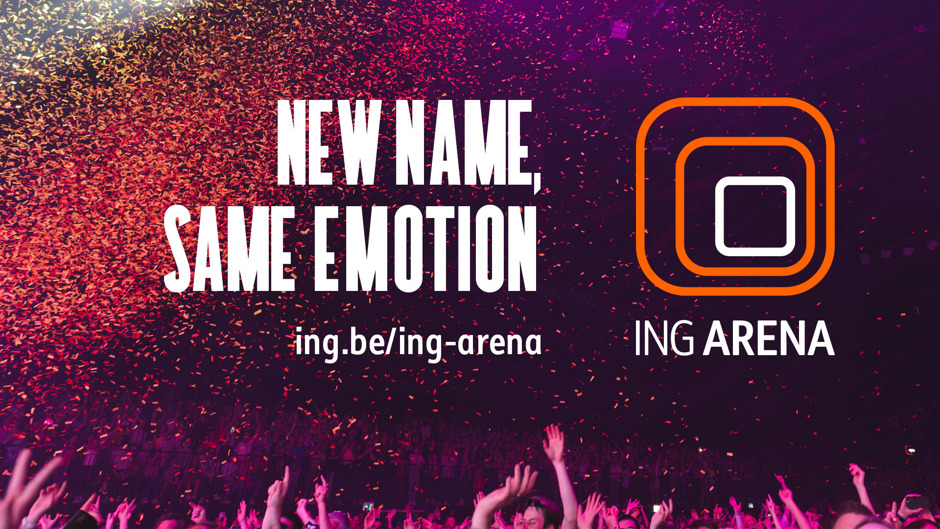 ING Arena: new name, same emotion
A historic partnership crowned by a new logo
Brussels - As from today, Palais 12 becomes ING Arena. The name change of one of the country's largest concert halls is part of a new partnership agreement between ING Belgium and Brussels Expo that starts officially today. The new name and logo can be seen on the walls of the concert hall and on all communication touchpoints.
With "new name, same emotion" as its slogan, the ING Arena launch campaign reflects the continuity of the long-standing and solid partnership with Brussels Expo.
The new logo uses the ING typography, while the graphic elements made up of concentric squares recall the architecture of the hall and the tiers of the arena. Finally, a touch of orange is used to recall the bank's main colour.
The ING Arena is one of the flagships of ING's sponsorship strategy, together with the partnership with RBFA.
Alongside football, ING Arena is ING's second flagship partnership Our aim is to create a strong emotional bond that will increase the public's consideration of the ING brand. To achieve this, we have decided to play the partnership card to the full. ING is ING Arena's privileged partner; just as the bank wants to be its customers' privileged partner and, in this role, support them in their projects so that they can live their lives and their passions to the fullAn Caers, Head of Communications, Brand & Marketing Communications (ai) at ING Belgium
ING Arena "powered by" ING
As the main sponsor of ING Arena, ING and its brand also has high visibility in strategic areas of the venue such as the ING Sky Box, lockers, earplug dispensers, digital screens, etc. ... and for electronic payments.
The role of the ING Arena is to connect the memorable moments experienced by the public with the ING brand So it's only logical that visitors will see the bank's logo and its famous orange colour in many places in and around the concert hallAn Caers
*** End of press release ***
Visual material available upon request