Financial Half Year Results 2016
ING Belux: witnessing a decrease in the financial half year results 2016 and sizeable growth in regulatory costs in complex market conditions
Growth of 4.4 billion euros (+5%) in the credit portfolio

Increase in deposits by 1.1 billion euros (+1%)

Pre-tax profit of 588 million euros (-5%)

Net growth of 10,000 new active customers

More than 47,000 new ING Lion Accounts opened

Cost base significantly affected by rising bank taxes of 202 million euros (+39%)

There was a decrease in the performance of ING Belux [1], with a pre-tax profit of 588 million euros, a decrease of -5% compared with the first half of 2015.
Rik Vandenberghe, CEO ING Belgium: "This decrease is influenced by the bearish market and the large macroeconomic uncertainty of the year so far. Additionally, the unprecedented situation of extremely low interest rates and rising regulatory costs continue to weigh heavily on our margins. Despite these unfavourable conditions, we have maintained almost the same level of performance as last year, thanks to a strict cost management, a clear acceleration of our strategy and the dedication of our employees."
Supporting the real economy
The credit portfolio of Belux witnessed growth of 4.4 billion euros across all business lines, an increase of 5% in comparison with the first half of 2015, of which 2 billion euros was driven by the medium-sized business segment. Our activities within Wholesale Banking also increased: outstanding loans rose by +11% to 14.5 billion euros.
Despite the historically low interest rates, deposits at ING Belux continued to grow by 1.1 billion euros, up +1% compared to the first half of 2015.
Within Wholesale Banking we have concluded a number of noteworthy agreements with our business customers, including:

ING Corporate Finance Belgium acted as sole financial advisor to Allfin in the merger with Immobel, offering assistance in the merger negotiations, deal structuring and providing a valuation report to the Board of Directors of Allfin on both businesses.

For AB InBev ING acted as: joint active bookrunner for the record-breaking $46bn bond issue in January 2016; ING acted as joint global coordinator on the record-breaking €13.25bn bond issue in March 2016; and in May 2016 ING acted as joint solicitation agent for the outstanding EUR and GBP bonds issued between 2009 and 2015."

The Industry Lending centre of expertise also witnessed further growth in income from 56 million euros one year ago, up to a level of 65 million euros this first semester, +16% in comparison with the first six months of 2015.
Income
The total income of ING Belux fell slightly to 1.6 billion euros, down -6% on the exceptionally high income posted during the first half of 2015. The decrease is mainly due to highly volatile financial markets as well as a drop in the number of applications for investment products.
The cost structure of ING Belux
ING Belux expenses at EUR 904 mln decreased versus first half of 2015 affected by one-off procured cost savings . Underlying expenses decreased by -6% thanks to continuous strict cost management resulting in lower staff and procured expenses, adapting to the more challenging environment in which the bank operates.
The cost base continued to be significantly affected by rising bank taxes of 202 million euros, up +39% compared to the bank taxes paid during the first half of 2015 (146 million euros), bringing the proportion of bank taxes to total cost base from 14% in the first half of 2015 to 22% in the first half of 2016.

The cost of risk rose substantially, due in part to the volatile macro-economic situation, the downward market trends, the unprecedentedly low interest rates and the increasing risk profile of certain sectors.
Solvency

ING Belgium NV maintained high solvency, with a Common Equity Tier 1 ratio of 14.8% (Basel III, fully phased-in, consolidated basis).
ING Belgium continues strong commitment to innovation
ING is continuing to innovate and believes firmly in the power of joint ventures as a means of offering its customers easy-to-use and relevant solutions that allow them to stay a step ahead in life and in business, as well as building new innovative positions in the banking landscape of tomorrow:

On 1 March 2016, ING FinTech Village, Belgium's first accelerator for financial technology, officially opened its doors. Since April 2016, seven selected start-ups have been working on their Proof of Concept. They are being supported in this by ING Belgium mentors and partners as they aim to produce a solution that will boost the customer experience or which will help the bank to innovate in new ways. This first phase was completed on a successful Demo Day, where the start-ups presented their Proof of Concept to the general public, investors and the press.

Outside the ING FinTech Village, too, start-ups and businesses can count on ING's innovation bankers, who assist entrepreneurs in bringing their business ideas to fruition. More than 50 innovation bankers are spread throughout Belgium and provide not only advice and support, but also financial tips and solutions. They also give businesses access to the innovation eco-system, a network of partnerships with incubators and partner organisations, such as iMinds, Idealabs and Smartfin.

In July 2016, ING signed a strategic cooperation agreement with KBC with a view to launching a unique combined payment and loyalty programme on the Belgian market, to make the most of the digital world familiar to customers. Later this year, the successful innovative payment method Payconiq developed by ING, the digital loyalty platform Qustomer acquired by ING and KBC's loyalty platform CityLife will be bundled into one upgraded platform under a new brand name.  ING will further optimise the Payconiq solution together with KBC. Customers can already use Qustomer and CityLife in the Payconiq app, which is available and user-friendly for customers of all Belgian banks.

ING Belgium stimulates entrepreneurship
Entrepreneurs are an important group of customers for ING Belgium. During the Week of the Entrepreneurs, ING Belgium organised 33 events and 75 starters workshops in the four corners of the country. More than 4,000 entrepreneurs acquired knowledge essential to the further development and success of their business. What is more, since January 2016, every professional customer or small business owner has been able to turn to a business banker for one-to-one advice.

Thanks to the partnership recently forged with the FinTech start-up Zervant and Basware (global leader in electronic invoicing), customers can now count on a new digital, easy-to-use invoicing tool: ING Invoice Solutions. This online platform enables businesses to dramatically reduce the time they spend producing, sending and tracking invoices and payments so that they can focus more effectively on their core activities.  

Rik Vandenberghe, CEO ING Belgium: "By understanding our customers, accelerating the pace of innovation and continuing to improve our products and services, we want to help our customers stay a step ahead in life and in business, also in times full of challenges from an economic perspective."

Our sustainable role in society

ING Belgium is continuing its strong commitment to sustainability and believes that everyone has a role to play in society. And these efforts are being rewarded! In the latest report by the Bankwijzer, which evaluates banks in terms of their efforts in relation to sustainability, ING achieved the highest score of all the major Belgian banks and improved its score by +8% compared to last year.

"Double our impact, halve our footprint" is not an empty slogan. ING Belgium is continuing its efforts to make a substantial reduction in its ecological footprint, for example by reducing emissions from its fleet of vehicles. Employees can use one of the orange bicycles made available by the bank for travelling from one building to another in Brussels. Centralised measures also apply in buildings and offices in order to ensure lights are switched off and waste is prevented. Rainwater is recycled and waste is stringently sorted in the Brussels head offices. Employees have participated in an awareness-raising campaign in order to encourage them also to use less energy at home; the awareness and commitment of our employees is a vital key to success in our ambitions.

ING in Belgium continues to be a major employer. We had the pleasure of appointing 179 new employees during the first half of 2016. Within the executive committee of ING Belgium we welcomed Krista Baetens* as new Chief Risk Officer and Philippe Wallez* as new Head of Retail & Private Banking. (*both appointments subject to approval by the NBB); Pinar Abay will join the Board of Directors of ING Belgium as new non-executive director.

Rik Vandenberghe, CEO ING Belgium: "We are facing many challenges not only at an economic level, but also at a political and social level. Despite the headwinds, ING has the right strategy: Think Forward is producing results! Identifying new sources of revenue, making structural improvements in terms of costs and further simplifying and rationalising our way of working will be the focus in the coming months. We have to work with the mind-set of a start-up: flexible, dynamic, agile and beginning from the customer's needs. Past decisions have proven their effectiveness. In the future as well we will continue to do this so as to be able to deal as well as possible with the ever-changing market conditions."

Key financials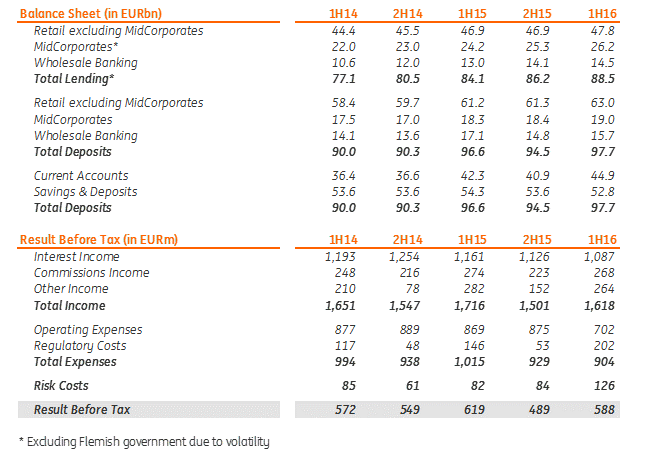 [1] ING Belux includes the ING entities involved in banking and leasing in Belgium & Luxemburg, excluding foreign branches.