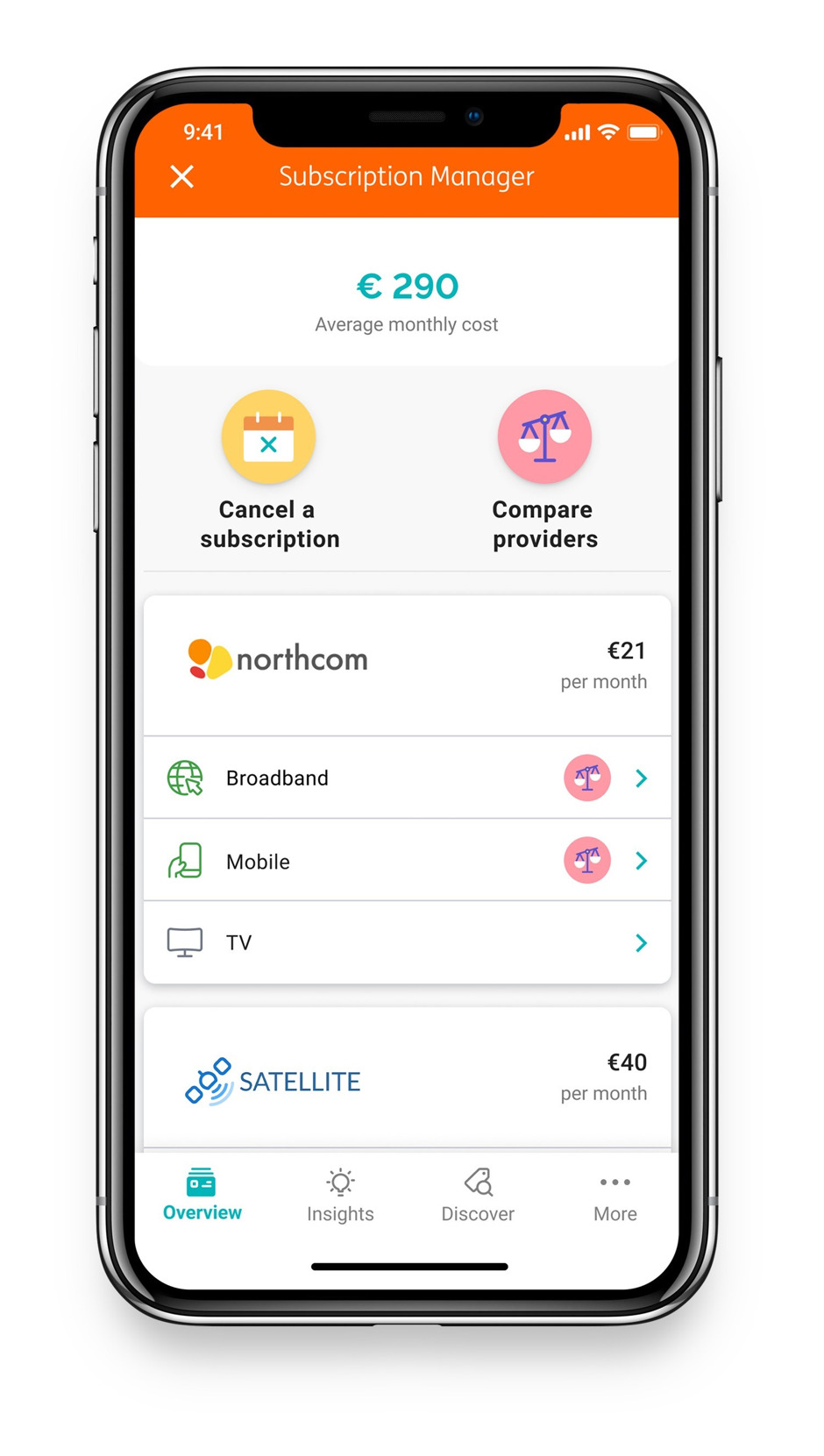 Exclusive: ING is the first bank in Belgium to launch a digital subscription manager
ING Belgium, together with the scale-up Minna Technologies, is empowering households to take even more control over their monthly budget in an economy increasingly defined by subscription-based services
Monday, June 29, 2020 — Brussels - ING Belgium is set to launch a digital subscription manager for nearly two million digital customers this autumn. The tool will give users of the ING Smart Banking app a clear view of all their current and dormant subscriptions. Research carried out by ING shows that almost four in ten Belgians think they have no more than three subscriptions, whereas in reality the figure is often higher. The tool also enables users with any unwanted subscriptions to have the bank cancel them on their behalf, free of charge. ING is the first bank in Belgium to offer such a service for which the bank has signed a contract with the Swedish fintect company, Minna Technologies. ING expects the subscription manager to be able to save more than 15 million euros for its customers by early 2024.
A subscription for the gym, your mobile phone, internet, Netflix, Spotify, Hello Fresh, dating sites, gas, electricity, newspapers, etc. The so-called subscription economy has been on the rise for some time now and, according to experts, will only increase. In the past, the costs of a telephone and television subscription were the only ones to appear on your bank statements. Digitisation, however, has made it much easier to take out a subscription. The downside is that consumers often no longer know how many subscriptions they actually have.
On average, two out of five Belgians spend up to 500 euros per month on subscriptions
According to a survey conducted by ING among some 400 Belgians, the total amount of these subscriptions can quickly add up. For example, two out of five people (41%) said that they spend on average between 200 and 500 euros per month on subscriptions. Almost four in ten (39%) think they have a maximum of three subscriptions, while in reality that figure is often higher. Many customers no longer have an overview of what they actually pay per month in subscriptions.
That, however, will soon be a thing of the past for the nearly 2 million ING customers who use the bank's digital services. They will be able to use the digital subscription manager free of charge via their ING app or the online banking service, Home'Bank. As such, ING is the first bank in Belgium to offer this service.
"We give people an overview of theircurrent and dormant subscriptions based on their account information. But the tool goes well beyond that. This subscription manager will also make it very easy for users to manage, improve or discontinue their subscriptions. All of this is done by the app itself, without the user having to contact the service provider themselves. Just another way in which we make life easier for our customers, so they don't waste time on red tape."
David Rasson Head of Innovation at ING in Belgium
Digital subscription manager expected to save 15 million euros for ING customers
The subscription manager not only provides an overview of recurring expenses but also helps customers look for alternatives to their existing subscriptions.
"Some subscriptions you don't want to cancel like those for your internet or phone, but we know that customers also like to compare. By giving them that overview of all their current or dormant subscriptions, customers automatically get better proposals within our app when they ask for them. The overview is designed to help people regain control of their money and stay financially healthy. For example, in four years' time, our customers will be able to save an estimated 15 million euros in total through this subscription manager."
David Rasson Head of Innovation at ING in Belgium
The product of a year-long collaboration with Swedish fintech, Minna Technologies
The new digital subscription manager is the result of a collaboration between ING and the Swedish fintech company, Minna Technologies. The application was first tested within ING Labs Brussels, the bank's innovation accelerator that supports fintech start-ups in developing their products by opening up the bank's data, customers and experiences.
"We've been working with ING on this application for over a year and we're excited that we are now officially joining forces with such a progressive bank as ING. We are impressed by their speed of innovation and look forward to delivering new added value to their digital banking customers. Given ING's international presence, we have a great opportunity to help millions of customers in these uncertain times."
Joakim Sjöblom, CEO of Minna Technologies
"Banks today go far beyond the mere provision of banking services. Our goal is to offer even more intelligent tools and services for our customers, so they can get even more out of their money. To ensure they are always a step ahead in life. To achieve this result via such a great collaboration is especially satisfying."
Erik Van Den Eynden, CEO of ING Belgium
One thousand ING employees to test the tool this summer
1000 employees at ING will be the first to use the application these summer holidays. Based on their feedback, any necessary adjustments will be made in order to launch the new tool for nearly 2 million ING digital customers this autumn.
The data used by Minna Technologies to create an overview of the user's budget is treated in strict accordance with Belgian GDPR legislation. Customers must also give their explicit permission before ING shares any financial data with Minna Technologies. Customers must also reconfirm this permission every 90 days. Under no circumstances is any such data shared or sold to other parties.
Safia Yachou

- Spokeswoman & Head of Media Relations, ING Belgium
Joakim Sjöblom

- CEO and Co-Founder, Minna Technologies